Beaded Snowflakes 500円 雪の結晶オーナメント(サンキャッチャー)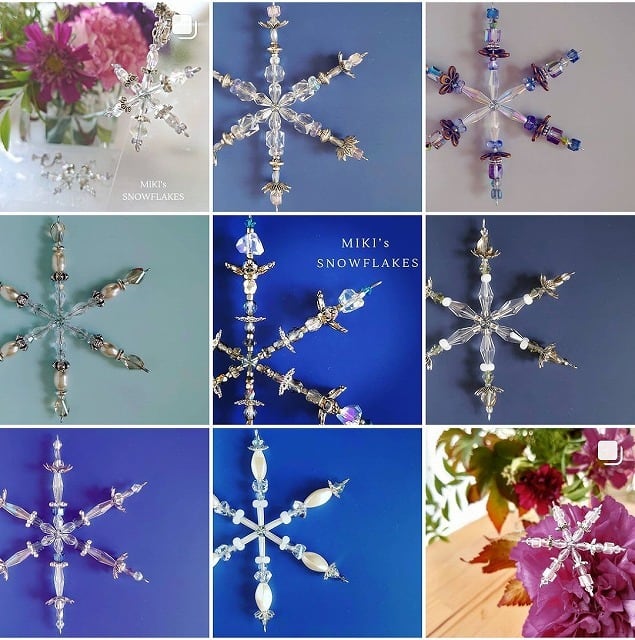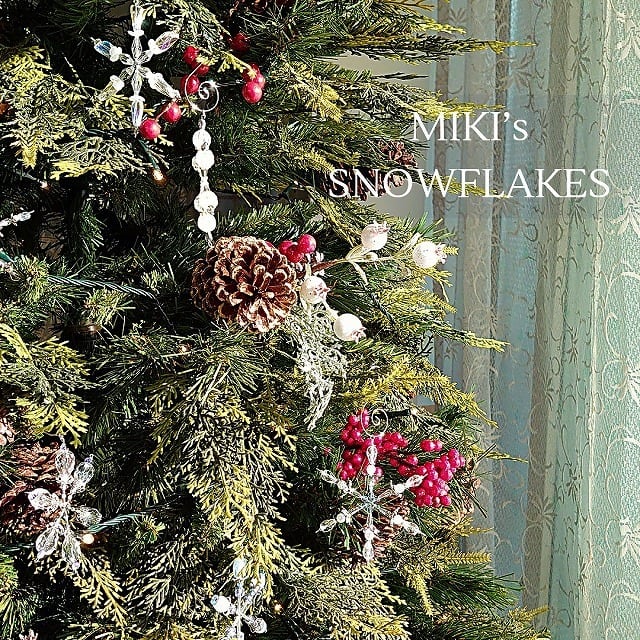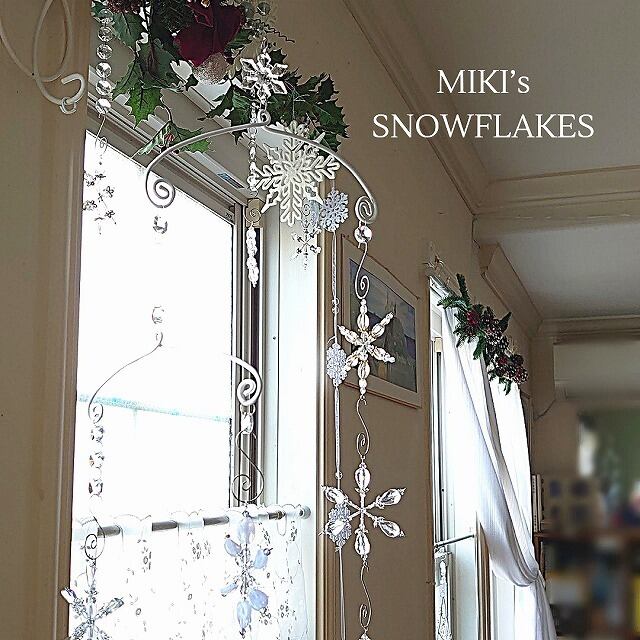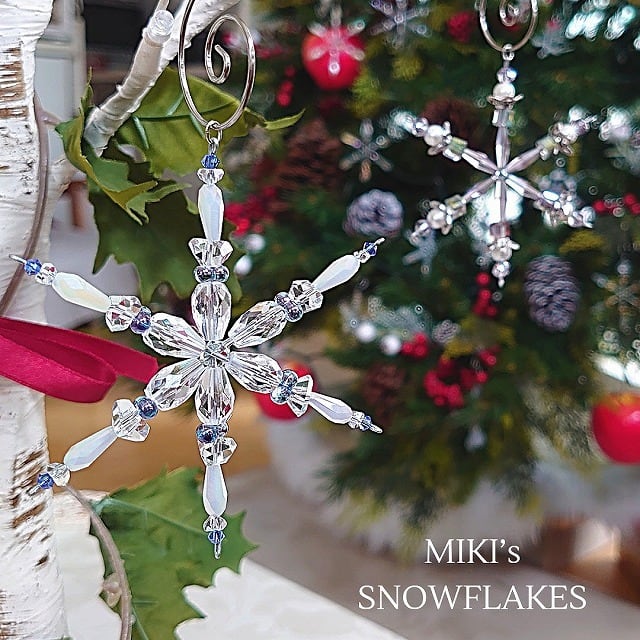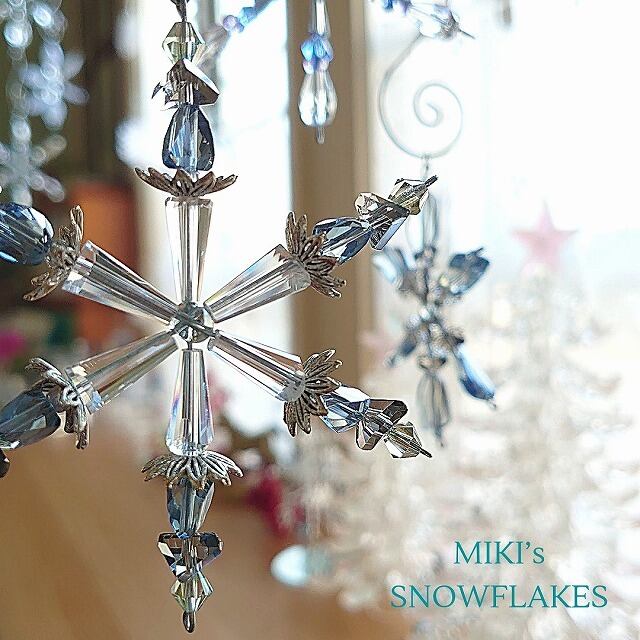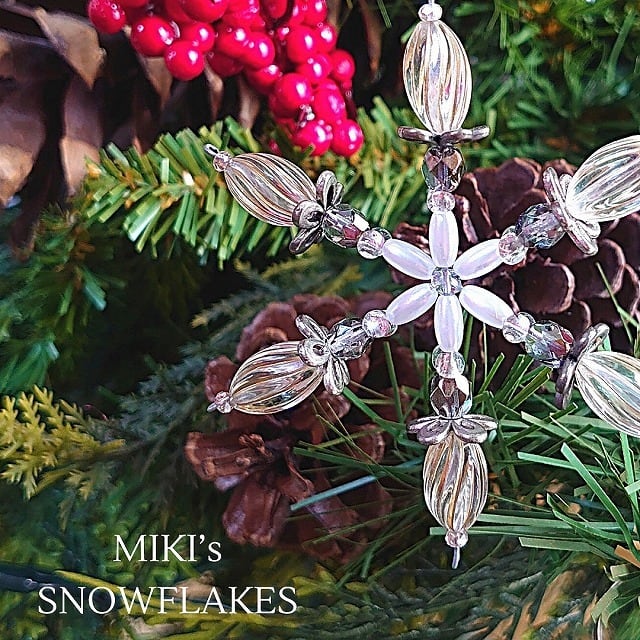 Beaded Snowflakes 500円 雪の結晶オーナメント(サンキャッチャー)
Beaded Snowflake Ornament

雪国生まれ、雪国育ち。
今は殆んど雪の降らない土地で暮らしていますが、私の心の中にはいつも、雪があります。
たくさんの雪への想いがあります。
そんな想いを、ちょっと形にしてみました。

窓辺にさげてサンキャッチャーとしてもお使いいただけるようにスワロフスキーやチェコビーズなどのガラスビーズを使用して輝きにこだわりつつ。
少しでもお手頃価格で楽しんでいただけますように…と、アクリルビーズも混ぜながら。
ビーズを通す金具も手作りで、楽しんで製作しています。

サイズ:約8㎝ (10~15g/個)
材料:ガラスビーズ、アクリルビーズ、ワイヤー、ワイヤー止め樹脂
お洒落なS字フック付き

陽の光を浴びて煌めく雪の結晶。
窓辺やツリーに飾って、楽しんでいただけましたら嬉しいです。

ひとつ500円。
お色は「Clear White」「Clear Blue」「Clear Gold」からお選びください。各々差し色としてクリアカラービーズにWhite , Blue, Gold が入るイメージです。
なお、インスタグラム写真からのオーダーもお受けできます。
↓
★インスタグラム写真からのご注文★
miki_snowflakesのインスタグラムに全て異なる表情の結晶を更新中です。
(100個以上)
番号に★がついているものに限りますが、インスタ掲載写真からのオーダーも可能です。

詳しくはお問い合わせよりご連絡ください。

★★★★★
To overseas customers
Please contact me before purchasing .
Mailing may be significantly delayed due to Covid-19 infection.
Please be aware of this.
★★★★★

I use glass beads such as Swarovski and Czech beads so that you can hang them on your windowsill as sun catchers.
I also mix in acrylic beads to make them a little more affordable.
The metal fittings for the beads are also handmade.

Snowflakes sparkle in the sunlight.
I hope you will enjoy decorating your windowsill or tree with them.

Size: approx. 8 cm (10-15 g/piece)
Materials: glass beads, acrylic beads, wire, wire stopper resin
Includes a stylish S-shaped hook.

We will send you ornaments of different moods, all within 15 pieces.

You can choose from "Clear White", "Clear Blue", or "Clear Gold". White, Blue, and Gold color beads will be added to the clear color beads.

※※※
The maximum number of pieces that can be purchased at one time is 30.
(This is due to the shipping cost setting.)

Please contact me for more information.
*Tax included.
*Additional shipping charges may apply, See detail..

About shipping fees
The shipping fee for this item varies by the shipping method. Customers can choose the shipping method at time of purchase.
クリックポスト

日本郵便の追跡型配送方法です。郵便受けへのお届けとなります。

Shipping Fees are the same all over country inside Japan ¥198
国際eパケット

Tracking package.

Shipping Fees are the same in all countries outside Japan ¥1,500